Annadana 5 Acre Agro-Ecology Knowledge Center – Farm Trail
Visiting hours – 10-1pm ; 2-5pm
Contact: +91 8023524400, +91 8277116606
Email: info@annadana-india.org
Route map – link
Duration
Purpose
Charges
Farm Educator Fee
Qualified Experts Biotech/Agronomist
30 Min
Field Visit
100
150
–
1 Hour
Farm Trail
300
300
1500
3 Hour
Farm Trail/Hands on
600
300
4000
Note: For additional hour spent in the field during the farm trail the charge of Rs. 150/- are incurred.
Optional: Should you wish for one of our qualified experts to accompany you, the above charges will apply.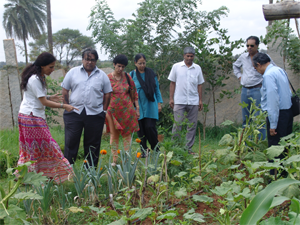 We welcome you to Annadana, our 5-acre agro ecology knowledge farm called Ishana which is organic and certified. We grow and eat what is in season, hence an energized bunch of us. We invite people of all ages and backgrounds to rediscover the joys of working on a farm. We guide you through a journey 'From soil to seed to plate' to understand the source of chemical free food through a farm trail. We help you grow your own vegetables at home, be it a small balcony/terrace or kitchen garden. We can also help you set up your own farm using an integrated holistic approach. We have several farm experts to get you going. Sign up for a hands-on workshop or a farmer field-day to dig into the details of growing chemical-free food. Visit our farm store and pick up publications, seeds of your choice, films and farm related products. Come join us and be part of the safe food movement.
We seek your participation to support farmers, consumers and the environment.The proceeds of your trip will help us empower more farmers.
We need you to stand with us as we defend our food chain from disease through repeated assaults.
We need your help to keep our children safe and healthy.
We need you to support us in our quest for a fairer world.
Photography Policy By entering Ishana farms, you grant Annadana and its employees or volunteers the right to photograph you and your dependent(s) for use in our electronic, print, and other digital media publications. We encourage visitors to photograph our activities for their own personal use, but permission must be secured in advance for professional and/or commercial photography on-site. Professional photographers should contact John Paul at johnpaul@annadana-india.org for permissions.